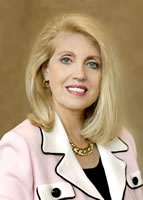 SAN ANTONIO BUSINESS JOURNAL
September 21, 2007
Women's Leadership Awards—Entrepreneurial: Deborah Bauer
by Randy Lankford
By the time she established the Drake Commercial Group in Austin in 1989, Deborah Bauer had realized two very important things. First, she loved the real estate business and second, she was going to be able to care for her children.
Bauer had never worked outside the home when she found herself divorced with two children in Georgetown, just north of Austin, in the mid-70s. "Having no college degree and two children to support, it became pretty apparent that I was going to have to find a job in sales, something where I could work on a commission type of structure."
She also knew she needed flexibility.
"Before my divorce I was very involved in the PTA and all the kids' things," she explains. "I knew I was going to have to work very hard, especially in sales, but I wanted to be the mom who went to all the kids' functions, the soccer games, the PTA, the school parties during the day. Even if I could have gotten a regular job that paid what I needed to support myself and my children, I wouldn't have been able to do those things and I felt like I would miss a lot."
The flexibility and the ability to earn potentially unlimited income drew Bauer into the real estate business. And it was an instant match. "I just loved it from the start," she recalls.
Her first job was selling large, luxury homes for an Austin builder where her clients included company presidents and CEO's who were looking for investment property.
"That led to looking for office buildings, retail centers, multi-family units," she says. "And then builders I had worked with and for started asking if I could do some land deals for them and help them sell their lots. It just evolved into a master-planned community business. I was getting the investor groups and the people I had met to buy large tracts and land and then we started subdividing them."
After a brief stint with a commercial real estate company, Bauer struck out with a partner whom she ended up buying out after only three months.
"I started my own company in 1984 or so and it became the Drake Group in 1989." In 1991, she moved to San Antonio.
"Back then, the world wasn't the same as it is today," she recalls. "There weren't a lot of female brokers...I decided to give the business a strong name and act like I was just an employee. I actually got it from the Drake Hotel in Chicago. I thought it sounded like a good, solid name."
The business has flourished since adopting the Drake name 19 years ago.
Transactions have grown from 50-to-100-acre-deals to 2,000-acre tracts in various parts of San Antonio. Bauer, who says she's probably working on four or five 2,000-acre deals at any particular time, has worked with Kerby Development in creating Canyon Springs in North Central San Antonio and Falling Waters off State Highway 211. She's also been involved in developing Steeplebrook and Stonewall in Northwest San Antonio as well as Cottage Estates and Vineyard Estates in San Antonio's exclusive Dominion neighborhood.
"I'm probably unique from most commercial brokers in that most of them specialize either in leasing or office or retail or multi-family development," she says. "I think I've had such a diverse group of investors who have followed me for so many years that it's become really easy for me to focus on master-planned communities. I like working with large tracts and then bringing in developers to divide up the land for residential and then bringing in my multifamily guys ad then the retail component."
Indeed, she has developed a forte in large deals. "I'm always delving further and further into the urban land plans, the master plans, bigger and bigger projects," she says.
Keeping her business from growing too fast has been a challenge for Bauer, who now has only a handful of employees after having as many as 16. "It hasn't always been easy to pull back and keep the company small. It could be larger but I like that personal interaction and so do my clients," she says. "They like dealing directly with me or my son, Travis."
Yet she recognizes her own limitations.
"And, if there's anything I understand," Bauer laughs, "it's that I'm not a manager. You have to understand your strengths and weaknesses and I definitely understand that my weak point is being a manager and my strong point is interacting with clients and finding the deals."
Finding those deals is what motivates Bauer today. "I love that everything is different every day. I love that you have the opportunity to create such interesting things or see something you were a part of come to fruition. Every deal is different but every relationship is the same. I never establish a relationship for just one deal. I'm in it for life."
« Back to Press page
» Read next featured article