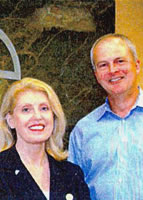 SAN ANTONIO BUSINESS JOURNAL
June 15, 2007
Major Development Slated for Prime I-10/Loop 1604 Corner
by Tricia Lynn Silva
One of the most sought-after corners in San Antonio now has new owners that plan to create a mega mixed-use development for San Antonio.
Just a little over a week ago, locally based firms Galo Properties and Fulcrum Development joined forces and purchased 98.7 acres of land at the southeast corner of Interstate Highway 10 West and Loop 1604 in Northwest San Antonio.
The two firms will continue to work in a joint-venture capacity to develop the site, according to Walt Busby and Steve Braha of Galo Properties and Fulcrum Development, respectively.
Initial plans for the site call for up to a million square feet of office development, 1,500 multifamily units, two hotels, and upward of 600,000 square feet of retail space, says Busby, president and chief operating officer of Galo Properties.
The project will be centered around a pedestrian-friendly design, adds Busby, in which residents, business people and shoppers would be a mere 10 minute walk from any portion of the project.
Busby says his expertise is on the office and the multifamily side of development project.
Meanwhile, Fulcrum has a tremendous amount of experience in the retail arena having created high-profile projects such as Ventura Plaza, The Strand at Huebner Oaks and Stone Oaks Plaza I and II.
Galo and Fulcrum purchased the acreage from a partnership that included a family owned entity out of Mexico called Galleria Ventures Ltd. and Aventura, Flabased retail development firm Turnberry Associates.
Deborah Bauer, president of local real estate firm Drake Commercial Group LLC, represented the Turnberry/Galleria venture in the sale.
It was Turnberry that had turned heads not to long ago when it announced plans to develop the estimated 98 acres into a 1 million square-foot power center called Regal Hills.
Those plans, however, never came to fruition.
Calls to Turnberry were not returned by the Business Journal's press time.
Enter Bauer, who approached Busby about the prospect of his firm buying the acreage.
The whole process took about 45 days which meant foregoing much of the due-diligence that is often done at the front of a deal, Busby and Braha say.
The trade off: Owning a prime piece of land that has been eyed by developers for years.
While the new project has yet to be christened with a name, one thing is certain: It won't be called Regal Hills.
"We will re-brand it," says Braha, who is a partner in Fulcrum. "This project will be completely different from what Turnberry laid out for the site."
Where Turnberry's plan had called for a power center-and thus some big-box retailers-Galo and Fulcrum's plans entail a more intimate environment.
Both gentlemen envision a project that will mimick more self-contained, urban areas-albeit at a suburban site.
While the concept is still fairly new in San Antonio, the city's growth will likely drive demand for more of these projects-as commuters find it increasingly difficult to travel from one side of town to the other without getting mired in traffic, Busby and Braha say.
"It's about quality of life now-what your time is worth," Braha adds.
As for how the project will come together, Busby and Braha envision a project that is propelled by the other uses first.
"The plan is to start with the office and the hotel development," Braha says. "The retail will complement that."
One of the key pieces of the project will be a five-star hotel, Busby and Braha say. A second hotel will be geared toward business travelers, they add.
And even now, with Braha and Busby about a week into the project, eyes are already on their sits-including some heavy interest from potential office users.
The phenomenon comes as little surprise to Busby, who points out that I-10 has always been one of the city's primary office corridors.
For years, much of that office development was concentrated around the I-10/Loop 410 interchange, notes Drake Commercial's Bauer. But with housing development continuing to move north is emerging as the key office hub, she adds.
As for the remaining 300 acres that Galleria owns, Bauer says that her client is looking at a range of uses-from hotels, to retail, to office, to high-rise luxury condominiums.
Like Busby and Braha, Bauer says that Galleria envisions a project where people would stay a while.
And little by little, says Bauer, the project is starting to take shape. Prior to the Galo/Fulcrum land deal, Bauer represented Galleria in the sale of 30 acres out of the remaining 300 to San Antonio multifamily development firm The Lynd Co.
"We are finally seeing the vision come to fruition," Bauer says.
"Everyone has been looking at this corner for 20 years," says Busby of the Galo/Fulcrum tract.
Over that time, significant developments have sprung up all around their site-including the Rim, La Cantera, Valero and the University of Texas San Antonio.
"(Our) site screams, 'Do something with me!'" Busby adds.
That time, says Busby and Braha, is now.
"Now it's in the hands of real deal makers," Busby says.
"We are committed to the project," Braha adds. "This should be a truly first-class, landmark development. The city deserves it."
« Back to Press page
» Read next featured article