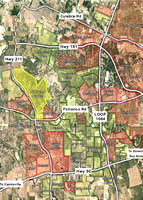 SAN ANTONIO BUSINESS JOURNAL
June 8, 2007
Retail Developer has Big Plans for Blossoming Far West Side
by Tricia Lynn Silva
A Houston-based development firm has made a large land play on the city's far West Side.
Houston-based Weingarten Realty Investors recently closed on the purchase of roughly 190 acres of land at the northeast corner of Potranco Road and State Highway 211.
Weingarten purchased the land from Dallas-based Cumberland Investments, according to Deborah Bauer, president of locally based real estate firm Drake Commercial Group. Bauer represented Cumberland in the transaction.
Chip Field, founder of Cumberland, also credits local broker Tom Rohde for introducing Weingarten to Cumberland's project. Rohde is a principal/senior broker with San Antonio firm Rohde Ottmers & Siegel Commercial & Investment Realtors.
While Weingarten's plans for the site are still in the early stages, officials envision a retail power center that could span between 800,000 to 1 million square feet.
The project would likely be built out over the next two to three years, according to Eric Strauss, regional director for Weingarten. He adds that his firm has begun initial conversations with retailers.
Local commercial broker Brent Clifton represented Weingarten in its recent purchase.
Weingarten's 200 acres are part of a larger, 738-acre tract that Cumberland purchased this past October.
Weingarten, says Bauer, will be bringing a key element to an area that could ultimately be the site of several thousand single-family homes and four new schools for the Northside Independent School District (NISD)—all part of a master-planned project known as Stevens Ranch.
In all, Stevens Ranch spans 1,450 acres along the northeast quadrant of Potranco and Hwy. 211. The community is being developed by Chicago-based firm Navigators LLC.
Long-term plans for Stevens Ranch call for 4,300 homes. In addition, NISD plans to build two elementary schools, a high school and a middle school. It is a project that is ripe for the retail services that Weingarten's project—also dubbed Stevens Ranch—can bring to the table.
"When you look at the amount of residential, the quality of the residential (in the area), this is the likely place for the next big retail hub," Strauss says.
Meanwhile, Cumberland's remaining 538 acres has garnered the interest of multifamily apartment and garden-office developers—projects that will fit nicely next to Weingarten's power center, Bauer says.
But commercial developers will not only have the Stevens Ranch residents to serve. Other large-scale projects also are under way—including a few at the Potranco/Hwy.211 intersection.
Case in point is Redbird Ranch, which is slated to bring 6,800 homes to the area over the next several years.
Another project of note, says Bauer, is Bella Vista, a 322-acre community adjacent to Stevens Ranch that will add another 1,000 homes to the landscape.
"(The Hwy. 211 corridor) has become a major play," Bauer adds. "And retailers are seeing that this market is underserved."
The Potranco/Hwy. 211 intersection however, is only the latest emerging commercial hub on the city's Far West Side.
Since 1980, West San Antonio has been the No. 1 sub-market for new housing development, according to Jack Inselmann, vice president of the U.S. Central Division of Metrostudy- a leading provider of housing information.
In the case of projects like Steven Ranch, what homebuilders are finding are areas that include plenty of mature trees and gentle, rolling topography. Another plus of Stevens Ranch, notes Bauer: The 350 acres that have been set aside as greenbelt space.
"You still feel like you're in the country," says Bauer of the project. "It's a fabulous master plan."
And as more rooftops emerge along the far West Side, more commercial developers are taking notice. "It's amazing what's going on out there. It's a great story," Bauer adds.
"There are a lot of things going on. This is an exciting part of town right now," says Paul W. Kummer, executive vice president and chief financial officer of locally based Medallion Homes.
Kummer's firm, which has been active on the city's far West Side for some time, recently closed on the purchase of roughly 30 acres of land in Stevens Ranch. Christened The Preserve at Stevens Ranch, Medallion's project calls for 123 homes that will range in size from 1,500 to 4,000 square feet, and in price from the $180,000 to the 250,000s.
Adds Kummer: "The developers have spread their wings out there."
One group that will be following this development closely is Weingarten. "I really like San Antonio," says Weingarten's Strauss. "We plan to control and develop the keys pieces of real estate here."
« Back to Press page
» Read next featured article