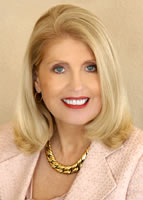 SAN ANTONIO EXPRESS NEWS
June 1, 2007
Brokering Land Deals Is Her Niche
by Rachel Stone
Deborah Bauer started her real estate company in 1984, during the middle of the savings and loan crisis, when prime mortgage rates hovered around 11 percent.
"It was scary when the market fell out in the mid-80s. But if you work hard in this business, you're always going to be able to do something," said Bauer, president of San Antonio-based Drake Commercial Group.
And Bauer has done her share.
One of a few female real estate brokers who deal in raw land transactions, Bauer has found a niche pulling master-planned communities together. Drake Commercial locates land for sale, finds investors and markets the land to builders and developers, all the while serving as a liaison for all of the project's participants.
Her success lies in following projects through from idea to reality, said Walt Busby, chief operating officer of Galo Properties.
And her ideas aren't pipe dreams. She reaches for the attainable and takes responsibility throughout the project, he said.
"It's a man's world out there in the real estate business, and she's one of the few that's really become just a consummate professional," Busby said. "You never have to look over your back when you have Deborah working on a deal."
She has sold thousands of acres in Stone Oak and on the city's far West Side. And she and her company's vice president, Bauer's 35-year-old son, Travis Bauer, developed two residential projects in the Dominion: the Cottages at the Dominion and the Vineyards at the Dominion, which each offered about 25 home sites.
Bauer's current pet projects are near the Rim shopping center. She recently sold a 31-acre tract near Vance Jackson Road and UTSA Boulevard to the Lynd Co., a San Antonio-based company that is planning an apartment complex. She's also working with the owner of the 400 acres adjacent to that. Bauer and her undisclosed buyers are planning a pedestrian-friendly urban village of homes, offices, shops and restaurants.
The Rim dominates that area's big-box retail market, while the Shops at La Cantera have cornered the high-end department stores. Bauer thinks an office component is missing.
"What we see filling in on that corner is the office and boutique retail or a high-end grocer," she said.
Bauer has been at the center of enormous land transactions, including a 738-acre section of Stevens Ranch and a 1,350-acre section of Briggs Ranch. She's currently marketing 900 acres of the former Freed Ranch, near Highway 90 and Texas 211, and a commercial tract near Potranco Road and Texas 211, which is selling for $850 a square foot.
The number of commercial real estate transactions that Bauer has done with IBC Bank is "unbelievable," President Steve Edlund said.
"I would say that Deborah is probably the most significant land broker out there from a commercial standpoint," Edlund said. "Almost every builder and lot developer we work with, they go through Deborah when they want to find land that they want to purchase."
Bauer is at the pinnacle of San Antonio's commercial real estate industry now, but she started out closer to the bottom.
After her divorce in 1982, she had to enter the work force with nothing more than two years of college and a couple of modeling gigs on her résumé. So she went to work selling tract homes for a builder in Georgetown as a way to support her two children.
That experience helped her gain real estate contacts who started asking her to scout out land for development.
"I decided it was a great thing to be involved on the land side rather than marketing or brokering properties," she said.
She started her business in Austin in 1984 and in 1990 moved to San Antonio to work on her first project here, Champion's Run in Stone Oak. She still keeps the office in Austin, and many of the same clients she had in 1984 remain with her today.
"You're never in these things for one deal. You're in for a long-term relationship," she said.
Bauer's real estate career started as a way to provide for her children, while still allowing her flexibility to attend their baseball games and dance recitals.
"There was no cap on how far I could go or what I could achieve," she said of the real estate business.
Bauer is a grandma now, but her philosophy hasn't changed.
"The most important thing in my life is my two children," she said. "Business is just the bonus."
« Back to Press page
» Read next featured article