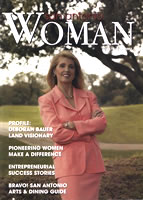 SAN ANTONIO WOMAN MAGAZINE
March/April 2007
Businesses that Endure—Growing a Company Through Multiple Decades
by Donna Hinkelman
After realizing that the commercial real estate companies she had been working with for the prior eight years did not share her same ideals, nor would they allow her the flexibility she needed to raise two children as a single mother while reaching her own financial goals—in 1989, Deborah Bauer set off into what had been a man's world in land and master-planned community development projects.
Considered one of the key developers in San Antonio, Bauer is credited with much of the development in the Stone Oak area. She deals primarily with buyers and sellers of commercial properties. Her son joined Bauer in the business after college and is helping expand the Austin market.
At the beginning of her business, her focus was on creating a solid client base and establishing a good reputation. She credits much of her success to the belief in her capabilities by a couple of clients who worked exclusively with her on their large and challenging projects in the early years; she considers them her mentors.
At this juncture, she defines success as the continuation of those business relationships. "I have been blessed with loyal clients who have put their trust in me throughout the years," says Bauer. "Their referral of friends and colleagues is the ultimate sign of their appreciation for my hard work and dedication."
Her vision for her company remains the same in that the relationships and core values are the most important aspects. However, sharing these with her son helps define the legacy of her company into the next generation. It also keeps things fresh, along with a constant pursuit of staying abreast of the market and current trends. "No. 1: I am committed to being responsive and sensitive to my clients' needs," says Bauer.
« Back to Press page
» Read next featured article