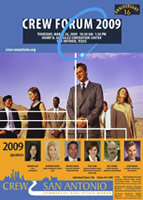 CREW FORUM 2009 SAN ANTONIO
March 26, 2009
Speaker, Land—Owner and President, Drake Commercial Group
Deborah Bauer is the owner and president of Drake Commercial Group, a commercial real estate brokerage company based in San Antonio, Texas. Deborah has been in real estate since 1977, and in 1982, she moved into the competitive specialty of commercial real estate. In 1992, she formed Drake Commercial Group. Over the last 26 years, Deborah has been representing investors and developers in purchasing large tracts of land and then developing and selling off sites. Deborah has offices in San Antonio, Austin, and Park City, Utah. Drake Commercial Group's reputation, as well as Deborah Bauer's commitment to excellence, earns her the respect of the commercial real estate community as a top professional.
Ms. Bauer has received numerous awards, including NAWBO's Entrepreneurial Spirit Visionary Award; North Chamber's Business Achievement award, the
San Antonio Business Journal's
Entrepreneurial Leadership award, and the
San Antonio Business Journal's
Best in Commercial Real Estate—Land Deal.
Deborah is blessed with a son and daughter, son-in-law, and precious grandson and granddaughter. She loves to read and vacation anywhere with a white sandy beach and blue water.
« Back to Press page
» Read next featured article