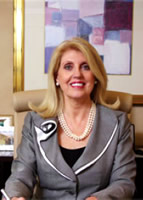 NSIDE SA
January 19, 2009
Turning a Vision into a Real Estate Reality
by Rudy Arispe
Deborah Bauer remembers driving up and down an area known as Stone Oak Parkway in the early '90s, sensing that it would be a wonderful place for development.
Back then, however, Stone Oak Parkway was nothing more than a number of paved streets, "but with tons of potential," she recalls.
"There were very few houses. All the streets were in, but you could drive along Stone Oak Parkway and never see another car or go through a stoplight," Bauer says. "It was like a wide open blank sheet. I thought it was an amazing piece of property because it had these beautiful Hill Country views. So I got some investors from Austin and we started buying here."
Much has evolved since the 1990s, and Stone Oak Parkway as we know it is a bustling mecca of upscale homes and apartment complexes, row after row of retail stores, medical office buildings, trendy nightclubs, restaurants and traffic.
Bauer also has grown by leaps and bounds on a professional scale over the past decades. Very few women, in fact, do what she does for a living.
As president and owner of Drake Commercial Group in the heart of Stone Oak Parkway, she deals in raw land transactions as a commercial real estate broker serving clients in Texas.
Her success story begins in Austin during the 1980s, when she was a single parent raising two children and obtained her real estate license to earn a living. Shortly after going to work for a builder selling homes, her career blossomed.
"I loved working with people, and everything just clicked. I was getting to know CEOs, who would ask me to find them income-producing properties, which led to finding land for the builders that I had worked for and developing master-planned communities," Bauer says.
After amassing a number of important business contacts and a solid resume, Bauer opened her own company in 1988. However, she chose not to include her name in the company moniker.
"Life was different for women-owned businesses in the '80s," Bauer says, "and since I was dealing with land and with large developers mostly from Austin and other parts of the state and the country, I chose a strong name: the Drake Commercial Group. I named it after the Drake Hotel in Chicago."
In 1991, Bauer opened an office in San Antonio, and in 1994 she built an office on Stone Oak Parkway and moved the company headquarters from Austin to San Antonio. In a nutshell, Bauer scouts for land for buyers and then arranges deals between buyers, investors and developers.
"I've been blessed through the years to work on large tracts of land and to go in and work with engineers and land planners to achieve the best master plans," she says. "It's nice to drive through and see these beautiful homes, apartment complexes, wonderful retail centers and schools all come together."
Her portfolio could fill a notebook. In addition to being credited for the development of much of Stone Oak Parkway, Bauer has her tentacles all across the city, including the recent sale and marketing of a 2,000-acre master plan on the far West Side and a current project involving 300 acres at the southeast corner of Interstate 10 and Loop 1604. She's also been the force behind the development of the Cottage Estates and Vineyard Estates in the Dominion, to name a few.
Gordon Hartman, founder of Gordon Hartman Homes, has worked with Bauer for more than 10 years. "She is not only a business associate, but we've also become good friends," Hartman says. "She can present the facts on properties very well and will do what it takes to follow through to make deals happen."
Bauer's right-hand man is someone dear to her heart. It's her 36-year-old son, Travis Bauer, company vice president, who joined Drake Commercial Group in 1995 after graduating from the University of Texas at San Antonio with a business degree.
"For me, it's the greatest gift to work with your children," she says, "and it's great to have someone I can trust and depend on, and clients appreciate how he works."
Travis says he has enjoyed working with his mother over the past 10 years. "Our family has always had a very close relationship, and I have thoroughly enjoyed learning the business from one of the best," he says. "I have always had a great deal of respect for the way she handles herself in the business. She is without a doubt one of the hardest working people I have ever been around. She truly has a love for the business and for putting deals together."
Outside of work, Bauer enjoys spending time with her 6-year-old grandson and 4-year-old granddaughter by her daughter, Shelly, who lives in Colorado Springs, Colorado. She also enjoys vacationing where there is "blue, blue water and white sand," including Florida and the U.S. Virgin Islands.
For Bauer, the joy and satisfaction in her work comes from waking up each morning and knowing that no deal will be the same as the one she brokered yesterday or the day before. "I have to give all the credit to the Lord for guiding me and opening doors for me," she says. "If you work hard and do things right, you'll be blessed, and you have to give back to the community through charity. As much is given, much is expected, and I think staying grounded and treating people the way you want to be treated are
the keys to success."
« Back to Press page
» Read next featured article