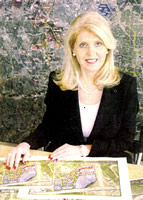 SAN ANTONIO BUSINESS JOURNAL
June 27, 2008
2008 Best in Commercial Real Estate (Land Deal): Landmark
by Randy Lankford
It doesn't take a gemologist to see the 400 acres at the southeast corner of Interstate Highway 10 West and Loop 1604 on San Antonio's Northwest Side is a diamond in the rough. But it does take a certain vision to imagine what that diamond is going to look like once it's been cut and polished.
Brad Galo, chief executive officer of Galo Properties, has that vision.
Surrounded by thousands of rooftops; the University of Texas at San Antonio; giant employers like USAA and Valero Energy Corp, and at the intersection of two of San Antonio's most heavily traveled freeways, 98 acres of the site will soon be joining upscale shopping and leisure developments The Rim, The Shops at La Cantera and The Westin La Cantera Resort as part of what is rapidly becoming San Antonio's entertainment epicenter.
Galo is turning the property into a mixed-use combination of retailers, multi-family housing, offices and hotels to be known as The Landmark.
The development plans for the land were stipulated by the former owners, a family from Mexico doing business as Galleria Ventures Ltd.
"They've owned those 400 acres for many years," says Deborah Bauer, president of Drake Commercial Group, who brokered the deal. "It's controlled by a group of cousins whose fathers were brothers. They wanted to see the land developed in a spectacular way. They didn't want to cut it up into pieces and sell it one acre at a time. Now, the cousins want to fulfill that vision. They want to see it developed in a quality way."
The family had already sold the parcel once. But when Florida-based retail developer Turnberry Associates didn't follow through on development plans, Bauer was asked to find another—and this time, local—developer.
"So I took it to Brad," explains Bauer. "He has a great reputation here in town. He has the ability to look at a project from a local point of view and see the opportunities."
Galo, in turn, partnered with Fulcrum Development to purchase the property in June '07 in a deal that had to be completed quickly. "When we discussed selling the property the cousins were looking for someone who understands the market and understands this is a prime corner," Bauer adds. "If we're going to sell it, let's sell it to someone local and do it quickly."
Unique Opportunity
Walt Busby, president and chief operating officer of Galo Properties, says the speedy deal came at a price. "It wasn't a wholesale purchase. A lot of times we buy properties in the thousands of acres and end up with a commercial piece about this big but rarely do we buy a site that's 100 percent commercial," he explains. "This is a little unusual for us, but it's such a unique corner, probably one of the preeminent corners in the state, that we just couldn't pass it up."
Since purchasing the property Galo has been working with numerous firms to create a master site plan to make sure the parcel is developed to its full potential.
"It's like cutting a diamond," Busby explains. "If you mess up on that first cut then the values are somewhat impaired after that. We don't want to do that. We want our first cut to be our best shot at it and to bring the best people to bear on the front end and then have them stay with us throughout the development."
Civil engineering firm Bury + Partners is making sure that initial cut results in a quality gem that will stand the test of time.
"The Landmark is going to be a high-end, master-planned community development," says Coy Armstrong, one of the principals in the firm's San Antonio office and senior project manager for The Landmark. "It's going to meet or exceed all the city's requirements. There are going to be upscale street designs with landscaped medians and a couple of lanes in each direction. There will be sidewalks and jogging trails throughout. It's going to be a little bit different than what you're used to seeing."
One of the challenges of developing the property is the fact that part of it sits above the Edwards Aquifer recharge zone.
"We're addressing that at the very beginning of the project," adds Armstrong. "We submitted those plans to the city and the Texas Commission on Environmental Quality (TCEQ)."
"We don't have a final site plan yet, but we're able to start preparing for the future by developing the master utility plan so regardless of what goes in there we have a way of serving the needs of that development."
Galo is planning to break ground on phase one of the project in the third quarter. The site is expected to eventually be home to 1.5 million square feet of office space and 400,000 square feet of retail. Busby is also projecting a 35-acre mixed use site combining ground floor retail with an upper level of multi-family housing and office space.
"San Antonio is a different kind of city to do that in. It works well in high-density downtown locations because you have so many people," Busby says. "Trying to do it in more suburban locations, you want it to be real instead of just a movie set. You want to have real tenants living there and paying rent. So that's the challenge, to make it attractive and high-energy and a place people want to live, shop and eat."
Busby adds that Galo Properties is also talking to several hotel operators about building a 200+ room hotel on the site.
« Back to Press page
» Read next featured article