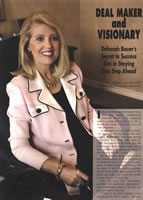 SAN ANTONIO WOMAN MAGAZINE
July/August 2003
Deal Maker and Visionary—Deborah Bauer's Secret to Success Lies in Staying One Step Ahead
by Jasmina Wellinghoff
It's an unseasonably hot day in May, but real estate professional Deborah Bauer looks elegantly cool in a pale-gray pantsuit as she is driving her visitor around to show off "her properties."
As we make our way north on Stone Oak Parkway, she points out the new upscale subdivisions that have sprung up among the rolling hills north of 1604. Designed to fit the landscape, the communities feature green belts, luxurious amenities and gorgeous views of the city and the Hill Country.
Almost casually, Bauer explains how she helped develop some of the projects or marketed others. As owner and president of Drake Commercial Group, she has been, in fact, the moving visionary behind much of the development in the Stone Oak region ever since she moved to San Antonio 11 years ago.
That the area had tremendous potential for residential development was immediately obvious to her. But not everyone saw it that way.
"I loved it so much because I was accustomed to hills in Austin," she says. "But nobody wanted to build in the hills. They said it was too steep. So I brought in a group of Austin investors to buy the tract that's now the Estates at Champions Run, which had been developed earlier but was virtually abandoned when I saw it. And I started building my own home there to show them how it could be done."
The strategy worked. Her house now stands among dozens of others in the green, gated community, which is indeed perched high above its surroundings. Not only was Bauer persuasive enough to eventually attract those first home builders to Champions Run, but her vision and negotiating skills have lured scores of other companies to invest in the Stone Oak section of the city. Over the last decade, master-planned neighborhoods such as Las Lomas, Big Springs Villages, La Cierra at Sonterra, the Heights at Stone Oaks and others have become some of the most desirable addresses in town.
"When I first got here, the roads were laid out, but there was hardly anything else except a little bit at 1604. It was mostly raw land," she recalls. "Now it's fun to drive around here and see all the neighbors I have and all the different styles of homes built. People enjoy it here because it's not only pretty, but it's close to the city and the schools are good. It's an easy sell."
Strictly speaking, what Bauer's company does is arrange land purchase deals between buyers and sellers and between developers and builders. But in practice there is a lot more to it than that.
"She is always one step ahead of everybody else looking for the next hot area," says her son Travis, who works with her.  "She understands which land deals work and which ones don't and who is best for which project. And she is very good at handling different personalities that would probably not work well together on their own."
Bauer's current project is Canyon Springs, a 760-acre subdivision between Canyon Golf Road and Overlook Parkway, laid out around a golf course. Drake Commercial represented Austin developer HPK Ventures, which originally purchased the land, and continues to work with that company and the civil engineers to map out a master plan for the community-in-the-making.
"I bring together all the different builders for the tract, which ultimately defines the plan, such as garden homes in one section, larger single-family lots in another, etc. We are now in the process of doing that, and it's wonderful to see the product coming together."
Among the 12 builders involved are both local and national companies such as Ryland Homes, Gordon Hartman, Legacy and Newmark Homes. Of course, each project, including this one, must be approved by the city and comply with existing codes.
"So my work is not so much selling as working closely with everyone to make sure that the land is developed at the right price and the houses get built at the right price. Today, we work more collaboratively. We try to make the master plans as nice as possible. I work only with developers who are conscious of the validity of trees and green space, and we try to preserve as much of it as we can."
And just how does one get to be a big-time player in the real estate game?
Bauer did not dream of land deals when she was a 15-year-old growing up in small-town Nebraska. Like many women of her generation, she thought she would be a mother and perhaps a teacher. After high school, young Deborah enrolled at the University of Nebraska but dropped out after a couple of years to get married. Children followed—first daughter Shelly and later her son, Travis. When her husband took a job in Georgetown near Austin, the family moved to Texas.
Then in 1979, Bauer got her license as a real estate agent and went to work for the first time in her life selling new houses for a builder.
"I loved working with people and helping them realize their dreams," she says. "Everything just clicked for me, I also met a lot of people—builders, investors and others. Everyone I worked with became a friend. After that, it was just a matter of finding the right niche for myself."
In the next few years her marriage disintegrated, but her career took off. Bauer found her niche while working for her second employer, who was more into commercial land deals. It was a match made in business heaven. She eventually struck out on her own, first with a partner and later completely solo. There were some easy years in the '80s and some difficult ones, "putting two kids through college," she says. Development in Austin was slowing down. So when she discovered Stone Oak in the early '90s, she knew she had found the next hot spot. It was—San Antonio, here I come!
A tall, slim blonde, Bauer is one of very few women in her line of work. When they opt for commercial real estate, women usually gravitate toward office building or retail leasing, rather than land development. Still, being female did not hamper her.
"Deborah has a strong following here," says developer and home builder Frank Sitterle, Sr., who has used Drake Commercial's services in various capacities over the last 10 years. "She seems always able to bring someone new to the table, to find the right party that will make the deal. When she takes on a job, you know you can depend on it. She gets more business than almost anyone else in her field, male or female."
And Brenda Vickery Johnson, owner of a civil engineering firm and president of the Commercial Real Estate Women's Network (CREW), praises Bauer as a role model and leader in the field. "Many of us in the organization would like to do projects with her," she says.
Today, Bauer works out of a cozy suite of offices on the second floor of her own office building on Stone Oak Parkway. It doesn't take her more than a few minutes to reach most of "her properties" except the latest one—in Park City, Utah. With three new employees up there in ski country, Drake Commercial is involved in the development of a skiing condo complex featuring units selling for $1 million to $3 million. The company continues to pursue projects in Austin.
It's no wonder that the lady has little time for leisure pursuits. Still, she seldom misses a Spurs game, and when she has a few days off, she likes to visit her daughter's family in Beaumont and enjoy her grandson.
"Some day I'll find out what my hobbies are," she chuckles. "I think I am a frustrated decorator. If I had a second career, I would do that. I would also like more time to do more in the community."
Though many San Antonians worry about the local economy, Bauer sees no end to the building boom. There may be a shift, however, toward the far Northwest, to the Westover Hills Potranco area, she says, where the terrain allows for easier and therefore cheaper construction. Lots sell quickly in that part of town. Eventually, the South Side will see its share of new developments as well, thanks to Toyota's plans to relocated there and business expansion at Kelly.
When the time comes, chances are Bauer will again be one step ahead of everyone by heading south, but no matter what she does, she wants to keep her business small.
"My clients want to work with me directly. I like to deal with them, too. I like that personal touch," she says.
« Back to Press page
» Read next featured article