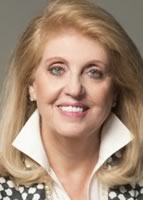 REDnews
January 2022
Deborah Bauer: 2021 Texas Commercial Real Estate ICON Inductee

Deborah Bauer received some sound advice when starting her commercial real estate career in the 1980s: A friend told her to avoid trying to be one of the guys, even though CRE was – and still is – largely dominated by men. This friend, instead, told her to keep her femininity and integrity and to be always true to her word.
Bauer followed this advice, and by living by this rule, she's built the strong relationships necessary to enjoy a thriving CRE career.
"I enjoy the opportunity to find the right projects for our investors and developers," Bauer said. "I truly enjoy being involved through the entire process, working with engineers and land planners and getting to see the final projects come to fruition."
This industry veteran is also fortunate to work with her son, Travis Bauer, who is now president of her firm, Drake Commercial Group.
Today, Drake Commercial Group remains successful, attracting a wide range of clients. How has Bauer managed to build such a busy real estate career? She credits her persistence, attention to detail, and personalized service. She also responds quickly to her clients' needs, all of which has let to a thriving business.
"My success is largely due to my integrity and dedication to our clients," Bauer said. "This commitment has blossomed into long-term client relationships and referrals."
And while Bauer's career is a busy one, she's also found time to give back to her community. She and several of her friends started a non-profit organization, Women Give Back. The organization donates 100 percent of the proceeds it earns to charity. Bauer says that this group was created to encourage philanthropic generosity among female leaders who want to give back to a community that has supported them.
Bauer's peers have recognized her success. Bauer has won several industry awards, including the National Association of Women Business Owners' Spirit Visionary Award, the North Chamber Business Achievement Award, San Antonio Business Journal Best in Commercial Real Estate, CREW Best Deal of the Year, and the National Impact Award for Entrepreneurial Spirit.
What is most rewarding about this industry? Bauer points to the chance to share with young women starting their own career paths the steps she took to balance family and business life.
"It is truly a pleasure to be able to share my experiences with them, as well as some ideas I wish I had started earlier in my career," Bauer said.
When not working, Bauer enjoys spending time with her four grandchildren and traveling throughout Europe.


« Back to Press page
» Read next featured article